Bohol Motorcycle Rental is your first choice for motorbike rental in Bohol and Panglao. We offer new or newer motorcycles in absolute pristine condition – at affordable prices.
Reserve your rental motorcycle in Bohol – fill out the reservation form with your details and dates, and we will contact you.
Feell free to contact us for any questions regarding motorcycle rental in Bohol. We have been in business for more than 8 years and love to share our expeience and knowledge with you.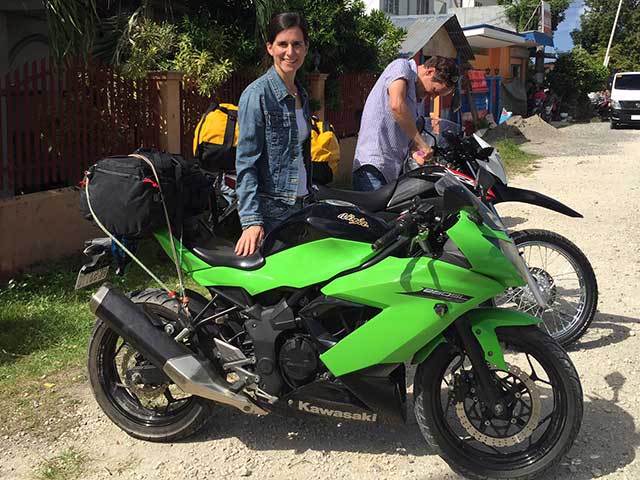 Rent Motorcycle Bohol – hiring a motorcycle in Bohol – chose between fully automatic Honda Click scooters and great manual Honda Trail Bikes
We also offer the Yamaha YBR 125 Trail Bike which is a bike perfect for all purposes. You can drive the motorcycle on both paved and gravel roads.
And for the hard core bikers – rent our flagship bike – The Kawasaki Ninja 650.
Become the King of the Road on a real big bike – the Ninja is the ultimate way of exploring Bohol and Panglao Islands.
Rent motorcycle at Bohol Motorcycle Rental – the most trusted motorcycle rental company in Bohol.
Go for the best – a superwell maintained motorcycle from Bohol Motorcycle Rental.
Rent motorcycle Bohol – here are your options if you want to rent a motorcycle at Bohol Motorcycle Rental:
Yamaha 125 cc YBR Trail Bike
Honda XR 150 cc Trail Bike
Honda Click 125 cc Automatic Scooter
Suzuki Burgman 125 cc Automatic Scooter
Honda Click 150 cc Automatic Scooter
Honda Click 160 cc Automatic Scooter
Yamaha NMAX 155 Automatic Scooter
Kawasaki Ninja 650 cc
Kawasaki Ninja 25o cc SL
Do not waste your time with ragged rental bikes with high milage and bad brakes, light & tires.
We are of course approved and registered with the authorities – DTI and BIR. And all bikes have legal papers and the required 3rd part insurance.
RENT A MOTORCYCLE IN ALONA BEACH AND TAGBILARAN – BOHOL
FOR FAST SERVICE – CALL PER:
 (+63) – 0917 503 0675