Scooter Rental Alona – a powerful Honda Click scooter from Bohol Motorcycle Rental will bring you everywhere on Bohol and Panglao Islands.
Our scooters are all Honda Brand. The most reliable motorcycle producer in Japan. You can chose between Honda Click 125 Automatic and Honda Click 150 Automatic. Both with fuel incejction and a powerful motor.
The scooters will certainly bring you and also your passenger around the island. The perfect way to visit all the major tourist attractions of Bohol
Scooter Rental Alona – make your reservation today. We are looking forward to meet you.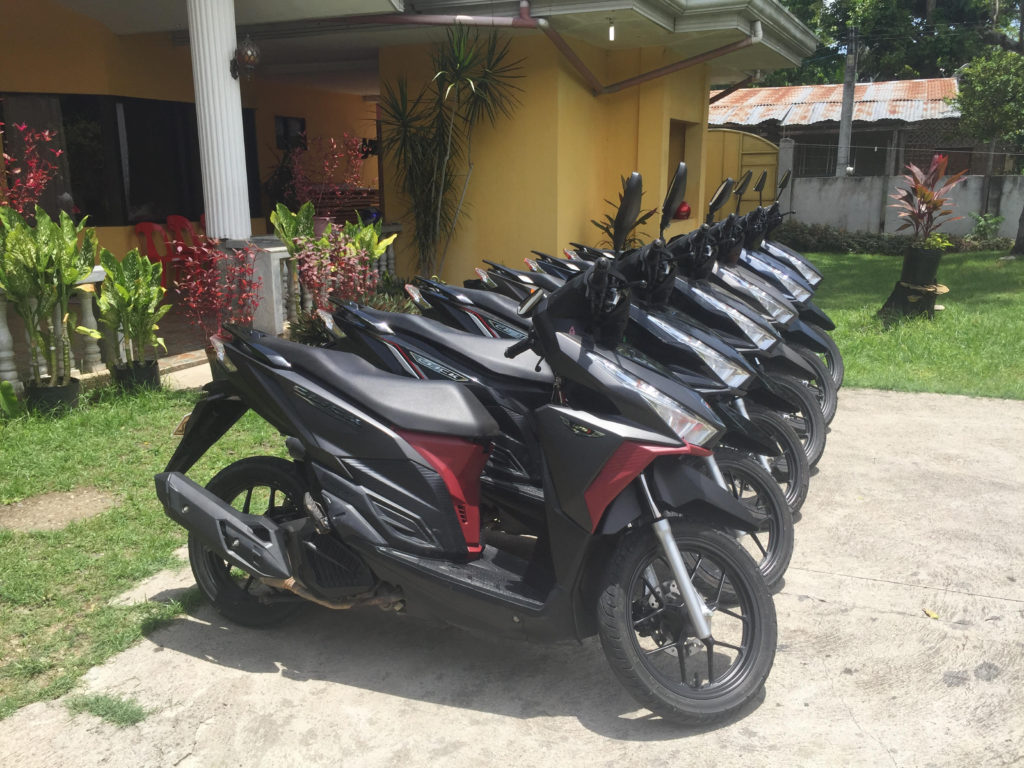 Scooter Rental Alona – We will meet you with the bike at the pier or the airport or you can take a tricycle to our established outlet in Bool District Tagbilaran – CPG Avenue 0560.
We are close to the Dauis Bridge. If you have difficulties in finding us, we could meet at the Caltex Station at the bridge on the Bohol side.
You´ll be kindly received by Jan or Nalyn. We offer the best Bohol motorcycle rental.
Rent a scooter in Bohol and Panglao Island, Philippines – we are well known for our excellent service and highly maintained scooters.
Scooter Rental Alona – We have your automatic scooter ready to go with no hustle – fully tanked and with a detailed map of wonderful Bohol.
An automatic scooter is just the right way to go around Bohol and Panglao. Easy to drive and easy to park. The scooter has a nice compartment to store your helmet.
Driving a scooter is a very economic way of getting around. You will be surprised of the low gasoline consume. And having the scooter for rent at your disposition will save you a lot of money – you dont need to pay expensive taxis, tricycle and jeepney fares.
Reserve your Scooter Rental Alona today – and we will prepare a nice unit just for you.
RENT A MOTORCYCLE IN ALONA BEACH AND TAGBILARAN – BOHOL
FOR FAST SERVICE – CALL PER:
 (+63) – 0917 503 0675