Rent Scooter Bohol – a powerful Honda Click scooter from Bohol Motorcycle Rental will bring you everywhere on Bohol and Panglao Islands.
Our scooters are all Honda Brand. The most reliable motorcycle producer in Japan. You can chose between Honda Click 125 Automatic and Honda Click 150 Automatic. Both with fuel incejction and a powerful motor.
The scooters will certainly bring you and also your passenger around the island. The perfect way to visit all the major tourist attractions of Bohol
Rent scooter Bohol – make your reservation today. We are looking forward to meet you.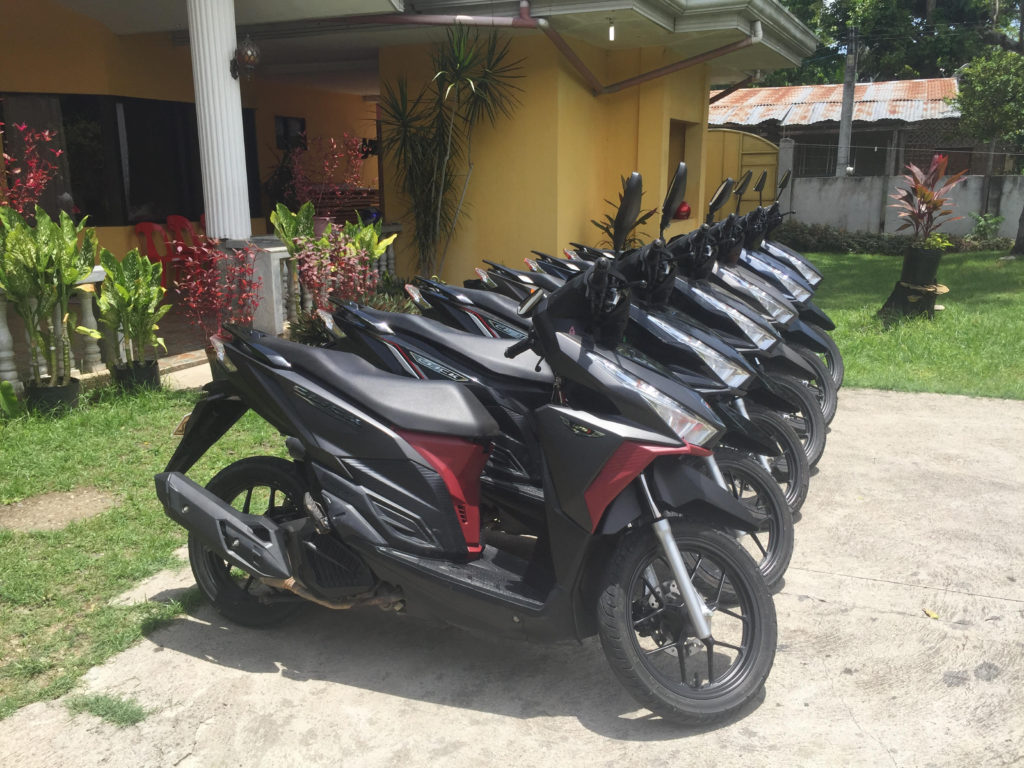 Rent Scooter Bohol – On a well maintained motorcycle for rent you will have endless additional ways of getting much more out of your vacation. The time is precious and you want to get the most out of it.
Don´t waste time waiting for overcrowded tourist vans and busses. Be your own tour guide. Google Maps will help you find around on Bohol and Panglao on your rental scooter.
The roads are in amazingly good condition – and road signs will keep you on the right track. If you get lost – then remember that you are on an island .. you will never get lost …:-)
If in doubt – ask the friendly locals – they will help you with a smile.
Rent Scooter Bohol – Visit all the main tourist attractions in Bohol on a rental scooter – and don´t forget to take advantage of the special possibilities, your rental bike will offer to you. Create your own tour route. Visit all the wonders of Bohol.
You will find a lot of nice diving spots around Bohol. And not all of them are close to Alona Beach. The easiest way to commute between the different diving beach locations will for sure be on a motorcycle or scooter for rent.
At Bohol Motorcycle Rental we know the best diving sites and how to get there – and we gladly share our knowledge with you. Ask our kindly staff members.
Rent a scooter in Bohol – make your reservation today. We are looking forward to meet you.
RENT A SCOOTER IN ALONA BEACH AND TAGBILARAN – BOHOL
FOR FAST SERVICE – CALL PER:
 (+63) – 0917 503 0675